How to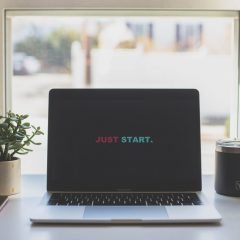 How long have you been waiting to begin pursuing your goal or dream? Most people are stuck in a perpetual mode of waiting. Everyone is waiting for the exact perfect moment to finally pull the trigger and get started. This is a huge mistake. The perfect time is right now.
Time is more important than timing. Avoid wasting time instead of focusing on the getting the timing just right.
Consider these ideas to begin acting on your plans today:

1. You'll never be ready. We love to stall. It's in our nature. If you wait until you're ready, you'll still be waiting on your deathbed.
◦ Do you know what the first step is? That's all you need to know. Just do it and you'll figure out the rest along the way. It's like walking up the stairs. You only need to see one step at a time to make it to the top.
2. The perfect time will never happen. Again, you'll be waiting until your funeral. There will never be a good time to get started. There will always be a viable excuse. All of the variables will never be in perfect alignment. The most perfect time you're going to get is right now.
3. The sooner you get started, the sooner you can be successful. The advantages of getting started now are numerous. Perhaps the most relevant is the fact that you can achieve your goals sooner. The sooner you begin any journey, the sooner you reach your destination.
4. Your natural tendency is to wait too long. We always wait too long. When is the last time you did something too soon? Everyone else is waiting. Be the person that doesn't wait. Fortune favors the bold, so be bold.
5. Your natural tendency is to value information too much. We want to know everything there is to know before we take the first step. Unfortunately, we can't know everything. Life sometimes unfolds in unpredictable ways. You know more than enough to get started. Just do it.
6. The most successful people make decisions quickly and stick with them. The least successful people are terrible at making up their minds. They're eternally conflicted for a variety of reasons, primarily fear. Give yourself a time limit to make a decision and then run with it.
◦ A decent decision, made quickly, that you stick with, is better than a great decision, a year from now, that you can't maintain.
◦ Practice making decisions quickly and moving forward with them. This is a great habit to develop.
7. The sooner you take action, the more you'll learn. Action leads to results. You learn something each time you get a result. You're not producing any results while you're sitting around waiting for the perfect moment to act.
8. Action leads to inspiration. Most people falsely believe that they'll take action when they feel inspired. But the opposite is true. Action leads to inspiration. Inspiration leads to even more action.
Why are you waiting? The most honest answer is fear. If you never get started, there's still hope, since you can't know for sure that your plans won't work. If you never begin, you can't fail.
However, the opposite is true, too. If you never get started, there's no real hope of anything better. If you never begin, you're guaranteed to fail.
Take a deep breath and get started today. You'll never be 100% ready or comfortable, so you may as well begin right now. Now is the moment to change your life.
---
Put Real Silver in Your Safe!
With Quick Silver you have your very own precious metals business.
Just let that sink in for a second...
I promise this is UNLIKE anything you've EVER been involved with. It's also one of the main reasons why we have such high success rates.
People are buying metals more now than ever before and now YOU have a business in which everyone wants your products and you can show them a way they can get precious metals paid for out of profits.
---
I'm covering the cost for my team members!
As you may know, I've been beta testing with an insane new platform. This is backed by a multi-billion dollar fund and completely changes how you go about building a business online.
I'm ENERGETICALLY building my team with this company to the point that I'm going to literally pay your way in (as long as you meet some basic criteria)! You can
watch a quick demo
showing how this works, and why I'm so excited about this. Like I said, I'm paying the setup fees for qualifying people!
>>
Watch how it works
All you need to do is create your free account, then message me back and I'll walk you through the qualifying steps to get your PAID account on me!
Talk soon (Look for my name in the video!)
Joseph Jepsen
---